THE THUNDERBIRD
MABULA GROUND HORNBILL PROJECT
NEWSLETTER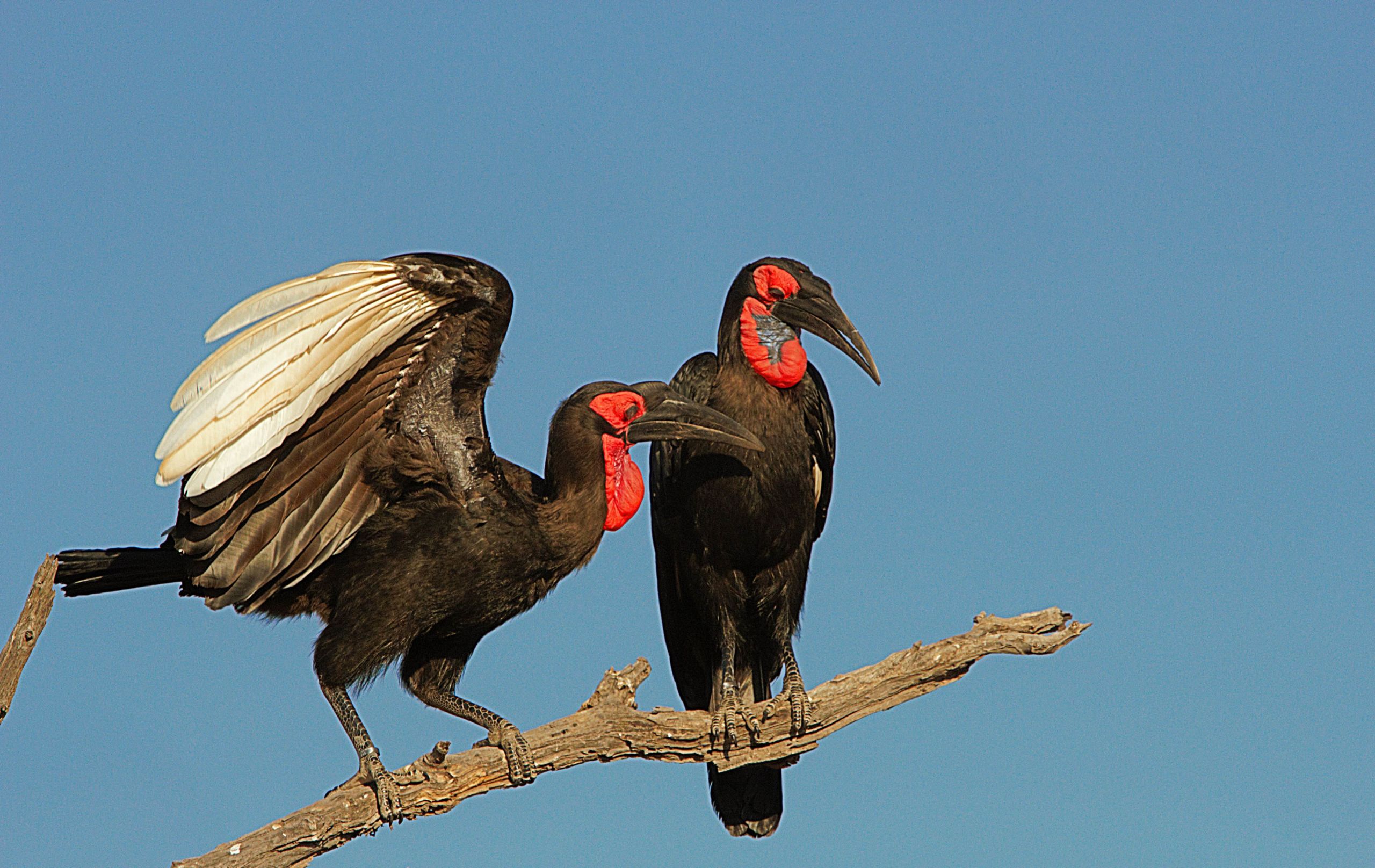 THREE NEW PUBLICATIONS + A NEW CONSERVATION PLAN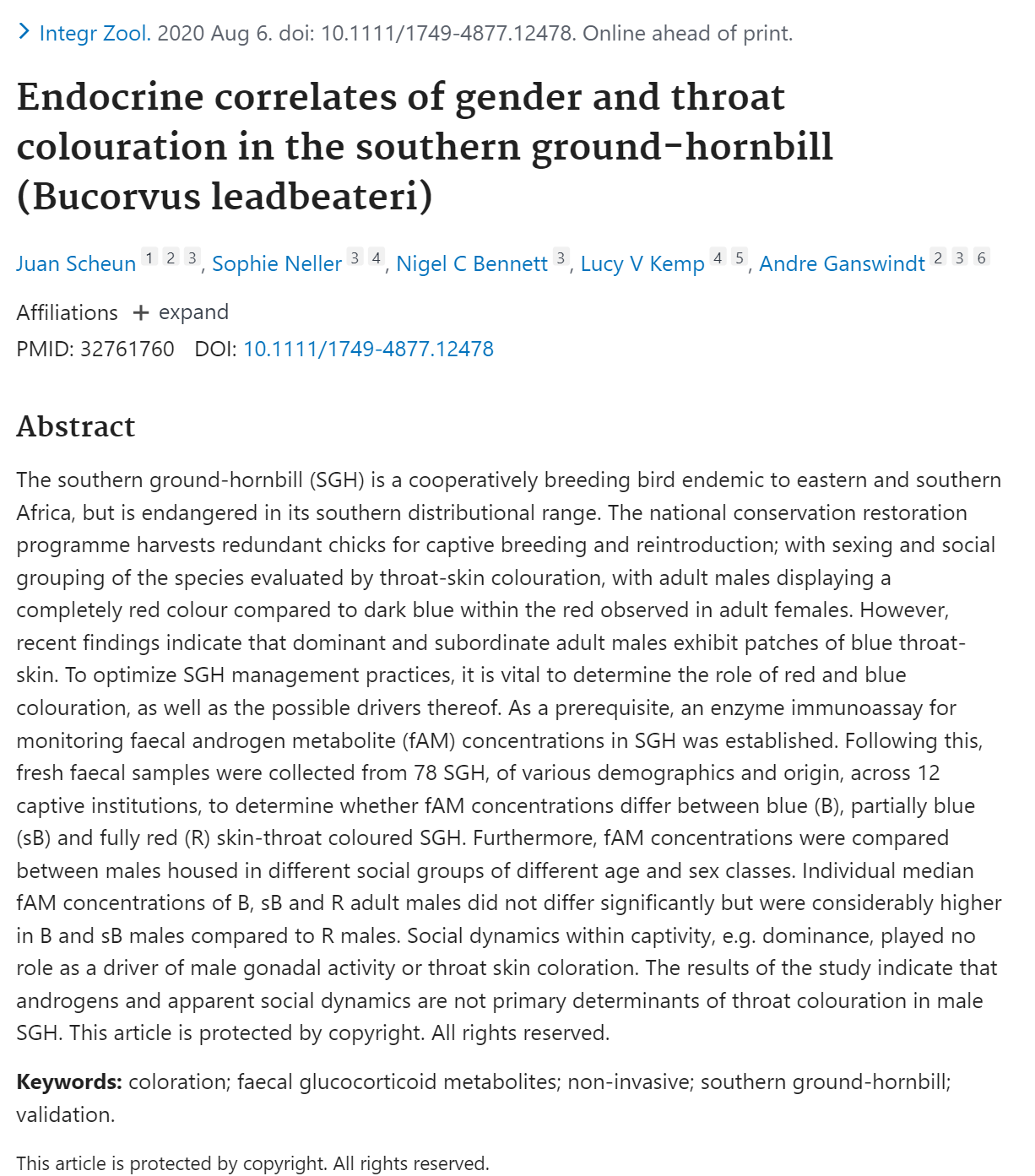 Our Sophie Neller's hard work collecting many many many ground-hornbill faecal samples paid off and her first publication is out.
The widely accepted method of sexing Southern Ground-Hornbills (SGH) is throat colouration; plain red for males and red with a navy-blue patch for females. However, a DNA-sexed male in captivity was observed to have blue colouration, and further investigations revealed more males with the blue throat-patch. In previous avian studies, androgens were shown to contribute to skin colouration in both sexes, thus to investigate this in SGH, an enzyme immunoassay for monitoring faecal androgen metabolite (fAM) concentrations were established. Samples from 78 individuals were analysed and the results showed no correlation between colouration and androgen levels in individual males of varying social statuses. fAM levels were however, significantly elevated in older individuals of both sexes.
Now we will investigate the effect of carotenoids, diet, and the physical structure of throat skin on the blue colour phenomenon in male ground-hornbills.
---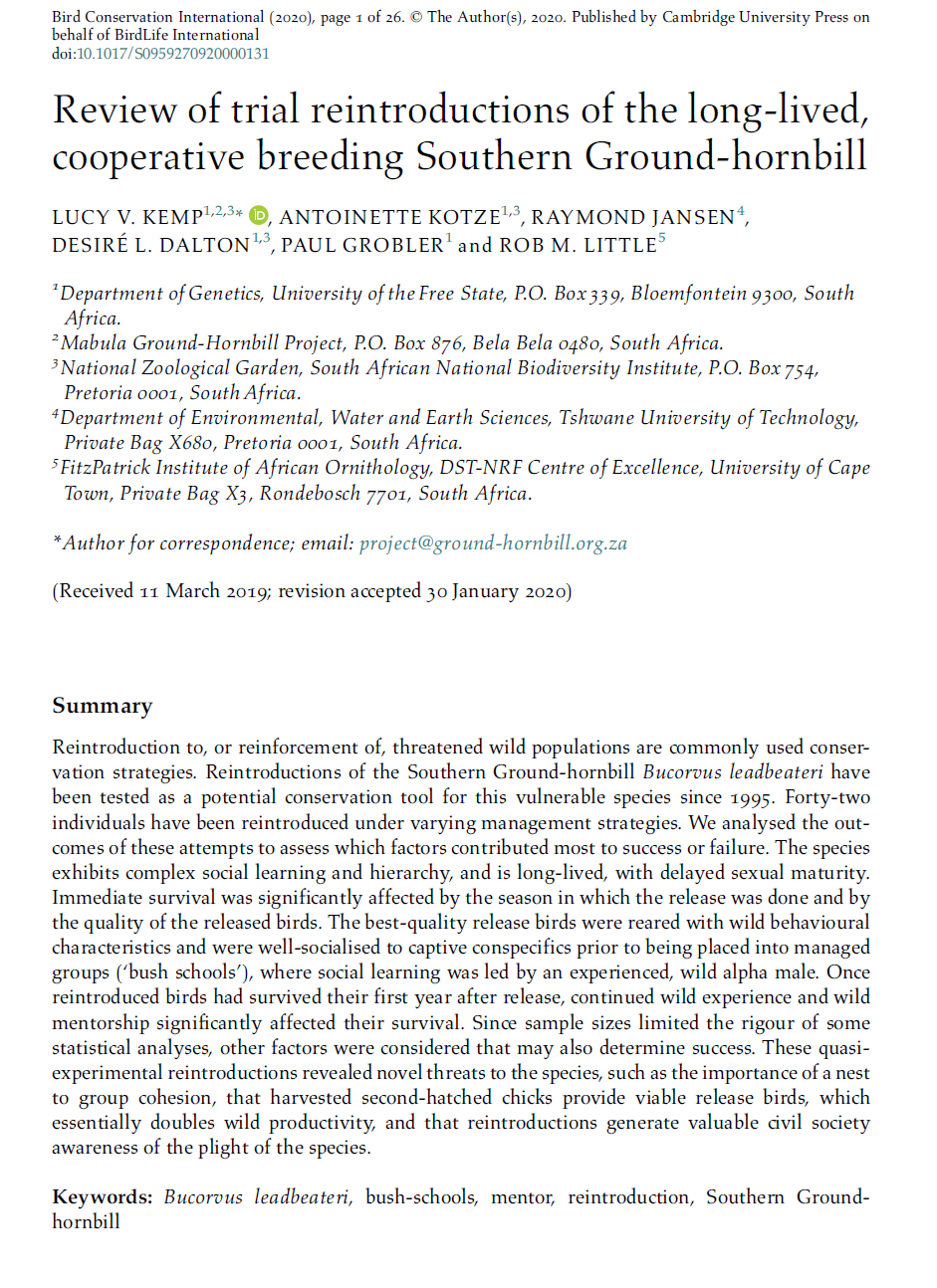 ---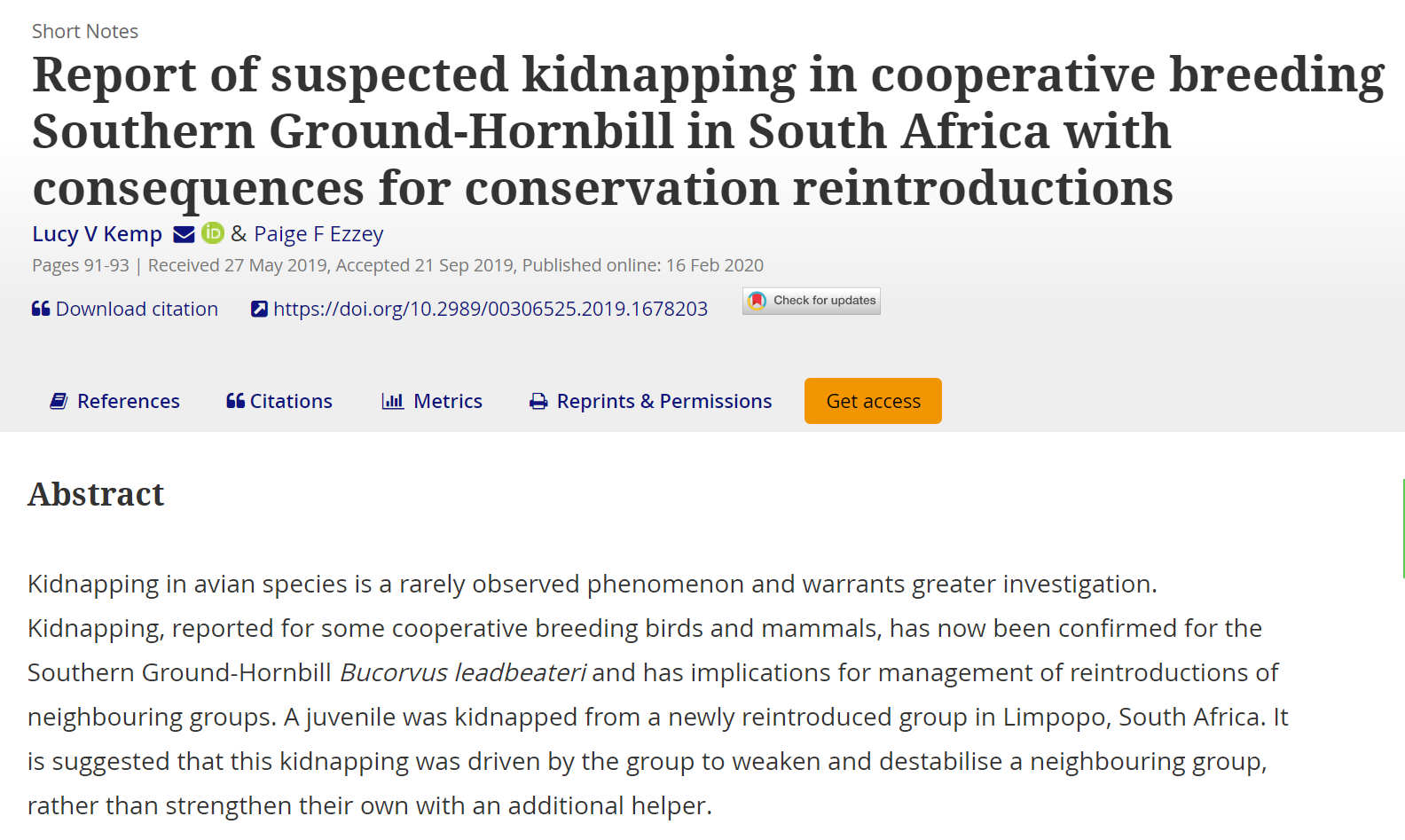 ---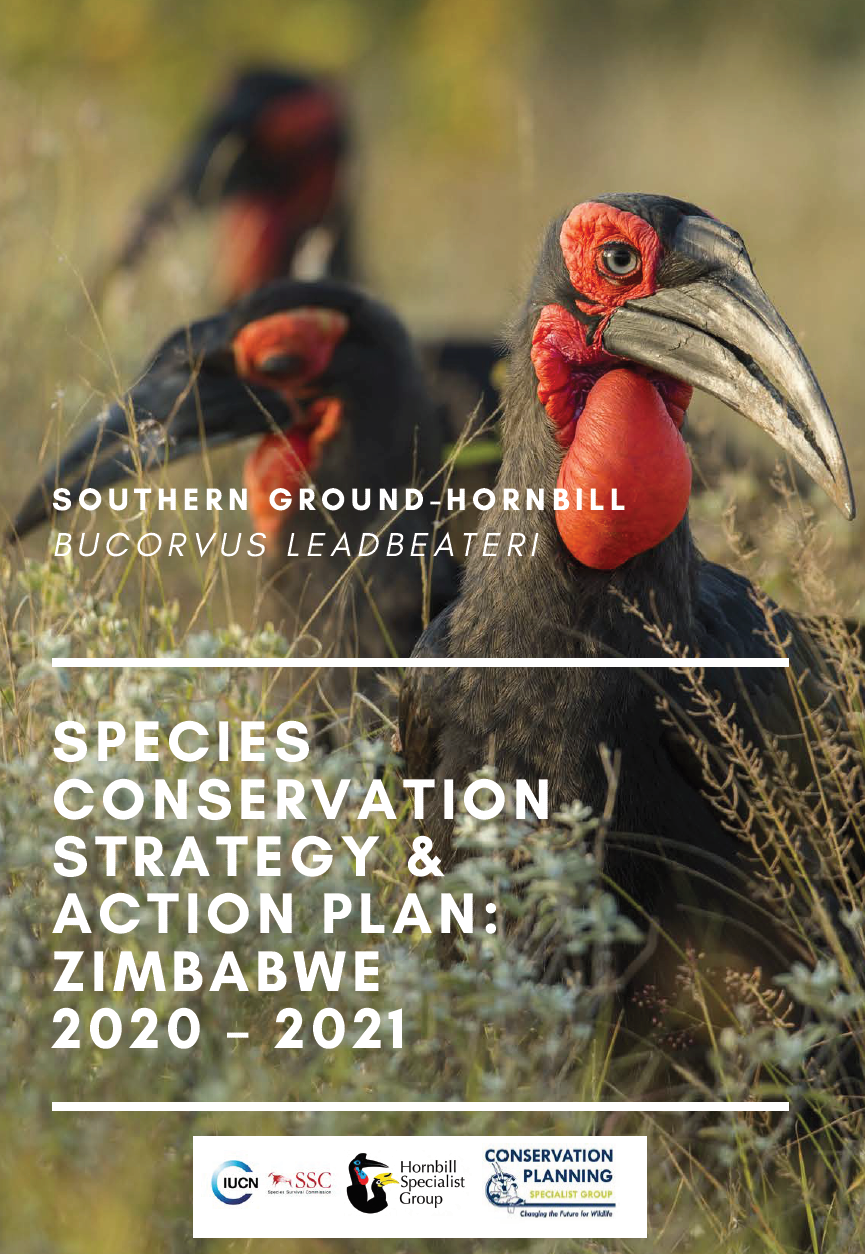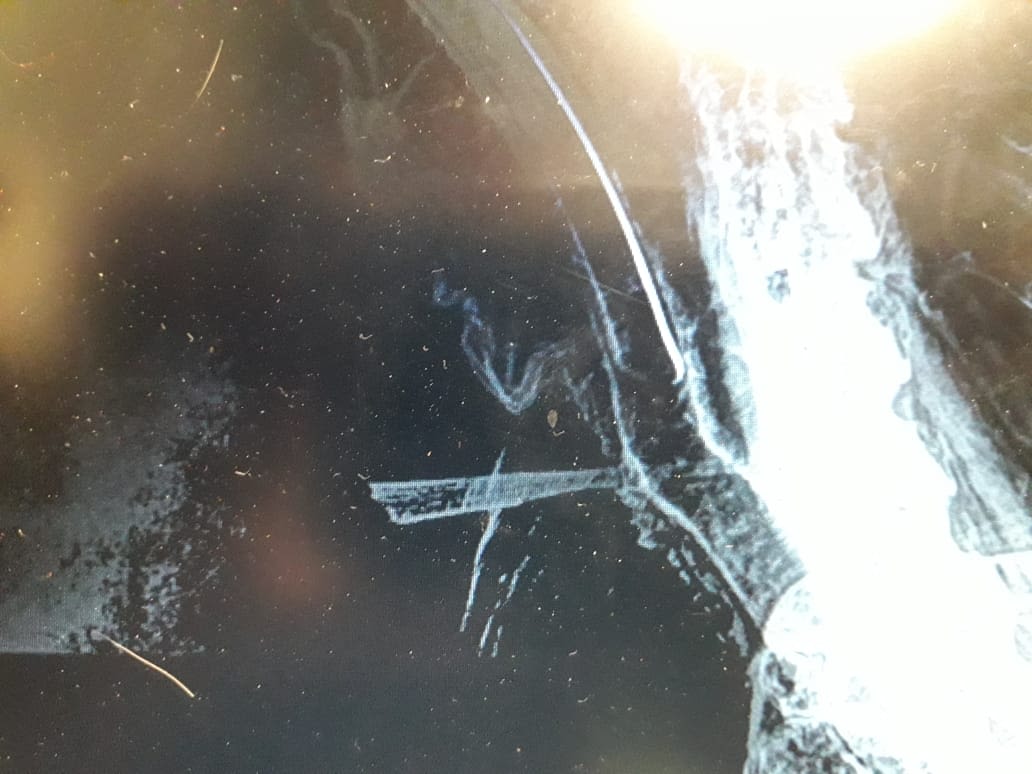 A radiograph showing how a porcupine quill went through this female's trachea and embedded in her vertebrae.
A radiograph showing how a porcupine quill went through this female's trachea and embedded in her vertebrae.
The last few months have kept us on our sanitised toes. South Africa lost two wild breeding females to extreme wind gusts, in excess of 36 km/hour.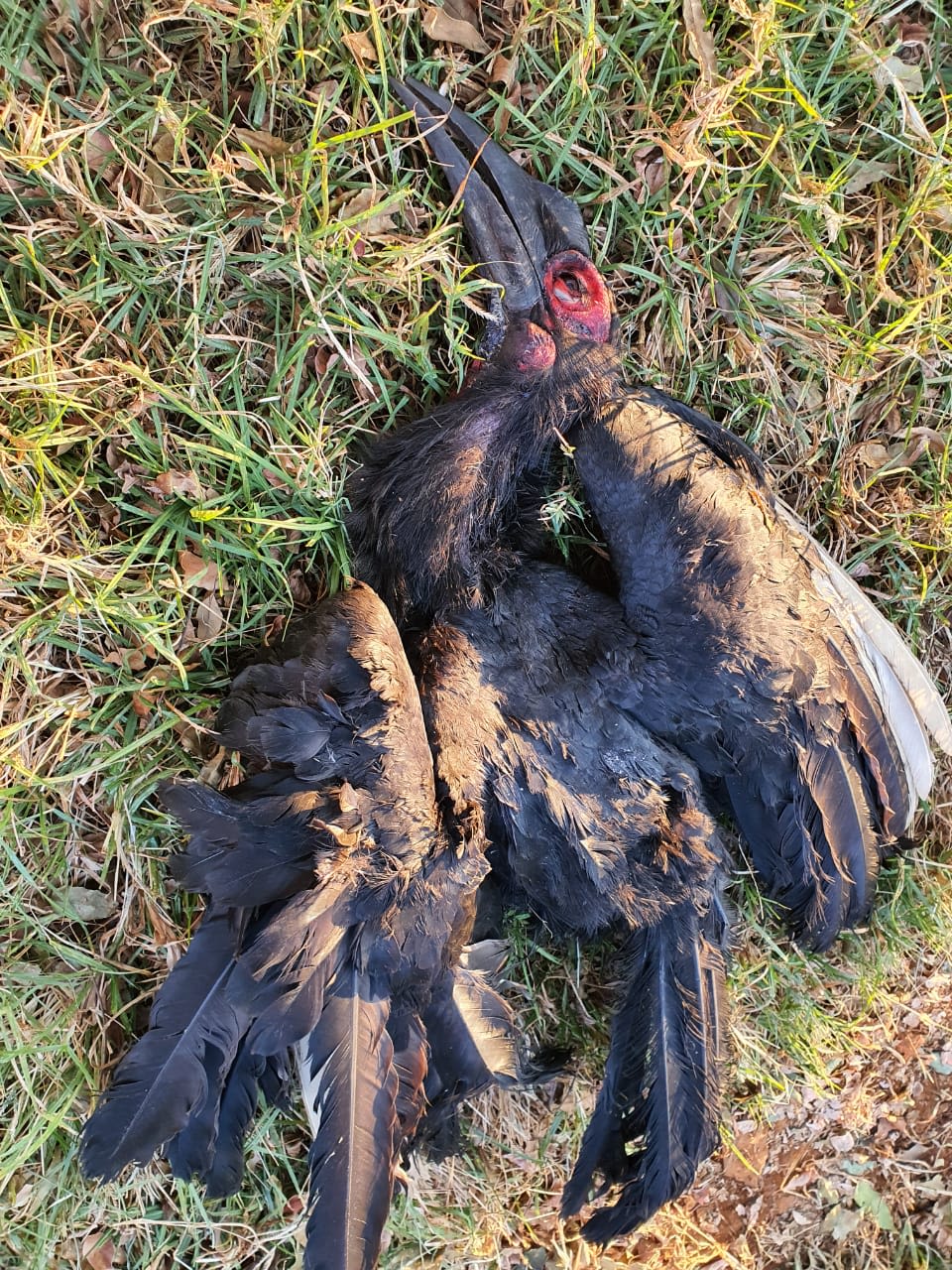 One of the reintroduced females was first nailed by a porcupine, and then once she had recovered after three weeks in hospital was then nailed by an African Hawk Eagle. We have had to take her back into captivity to monitor her healing and look at alternate plans for her future.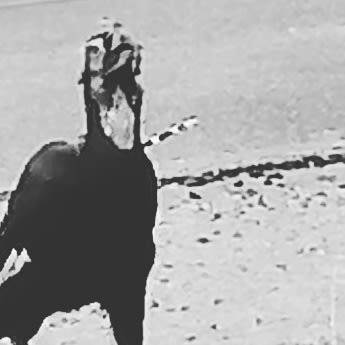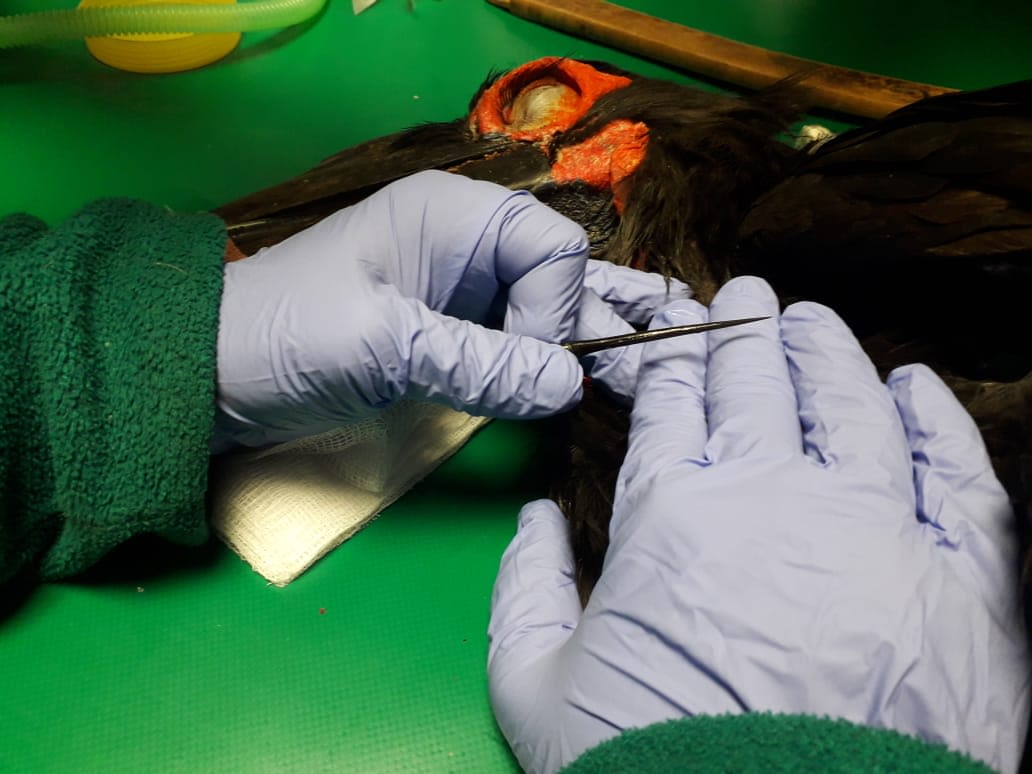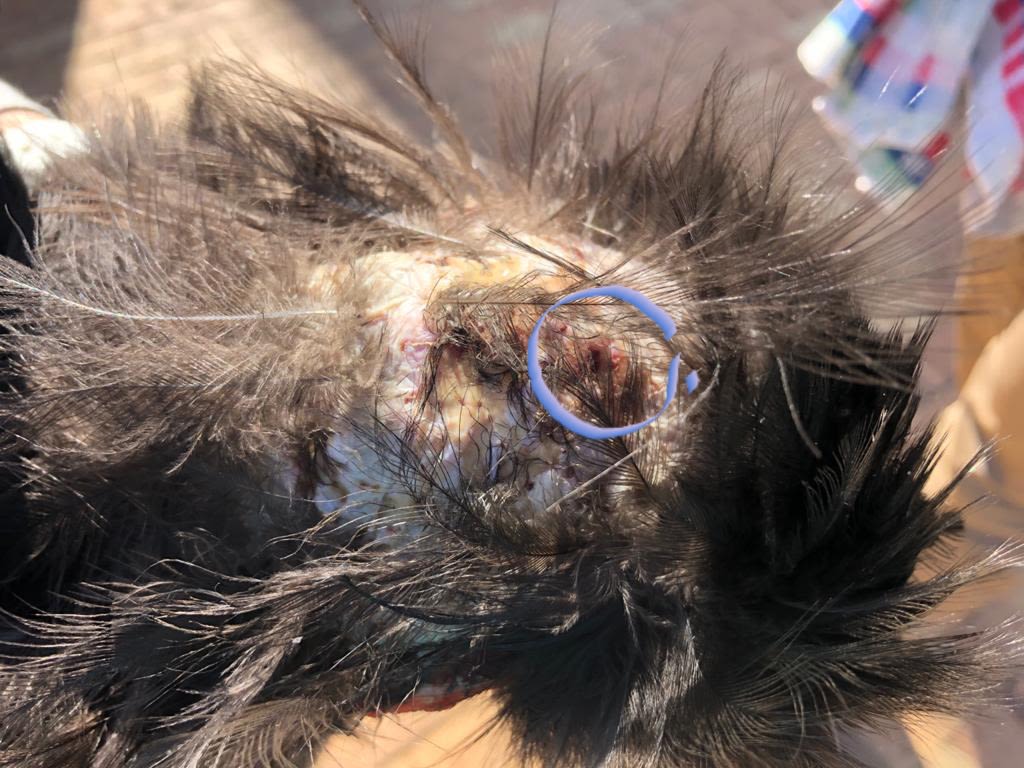 Then for us the most heartbreaking news was the death of a young reintroduced bird. He was settled into the release aviary and although the group wasn't super interested we thought to give it a try. Post- release, however, the group chased him aggressively and he managed to get impaled on a stick or some other sharp object in the landscape. Unfortunately, that caused internal trauma that led to his death. It is very tough for the team, but each incident makes us all pull together, to improve our protocols and hope that something like this never happens again.
COVID-19 LEADS TO CREATIVITY & NEW COLLABORATIONS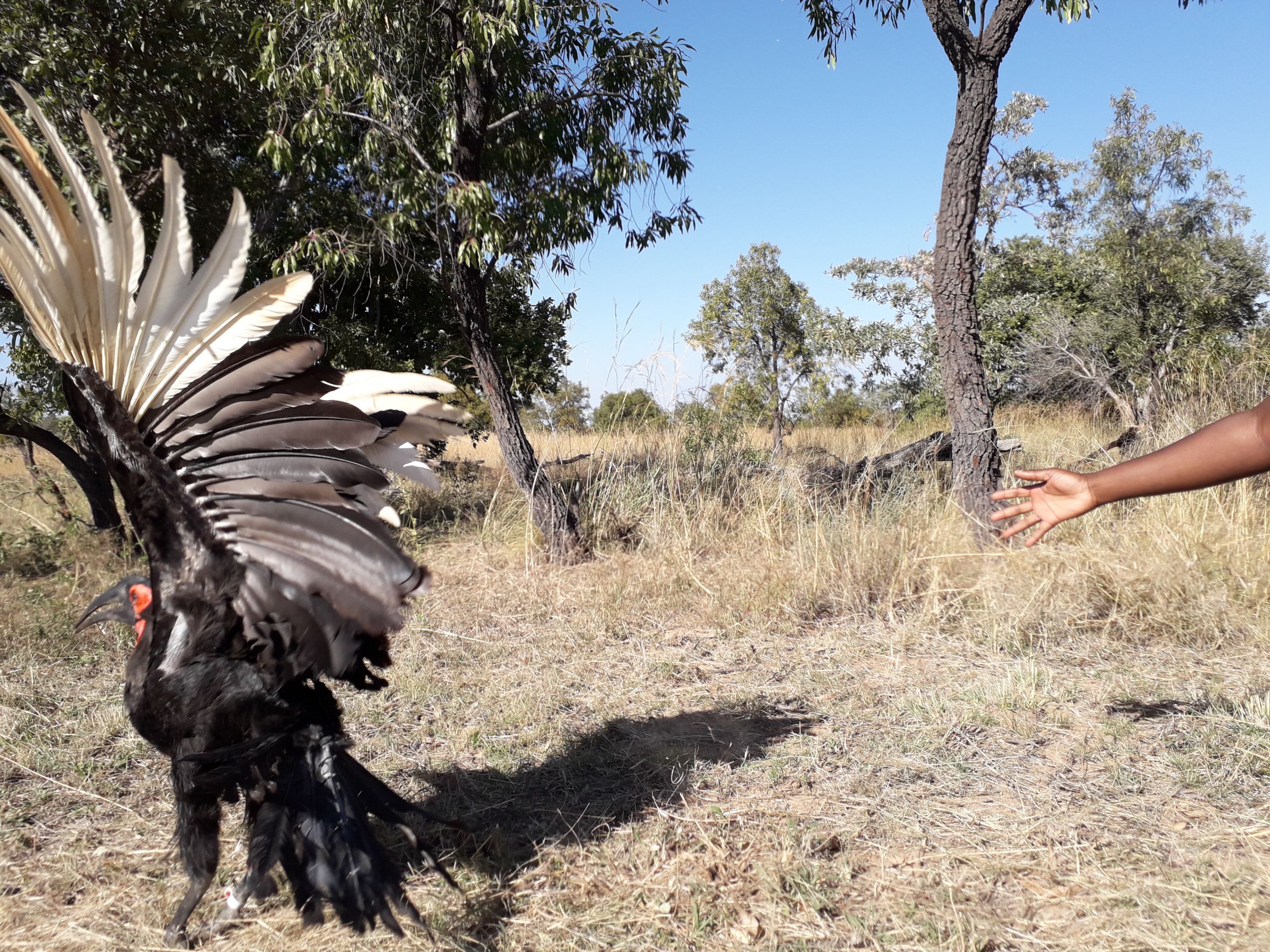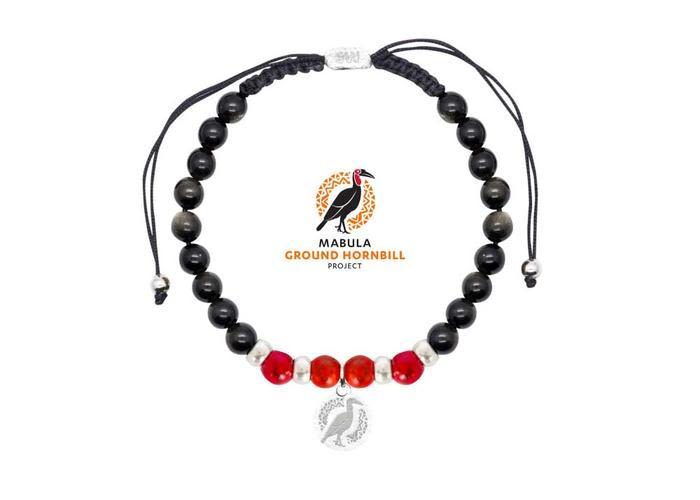 The team at Wild in Africa created this incredible semi-precious bracelet to support ground-hornbill conservation - 50% of each bracelet sold goes straight into our project for conservation and to the FitzPatrick Institute's APNR project to support their research, which ultimately guides our conservation actions - beautiful circle, beautiful bracelet. The bracelet is made from black obsidian and red jasper. These sell for US$40 and you can order at ttps://wildinafrica.store/collections/shop-charities/products/ground-hornbill-charity-bracelet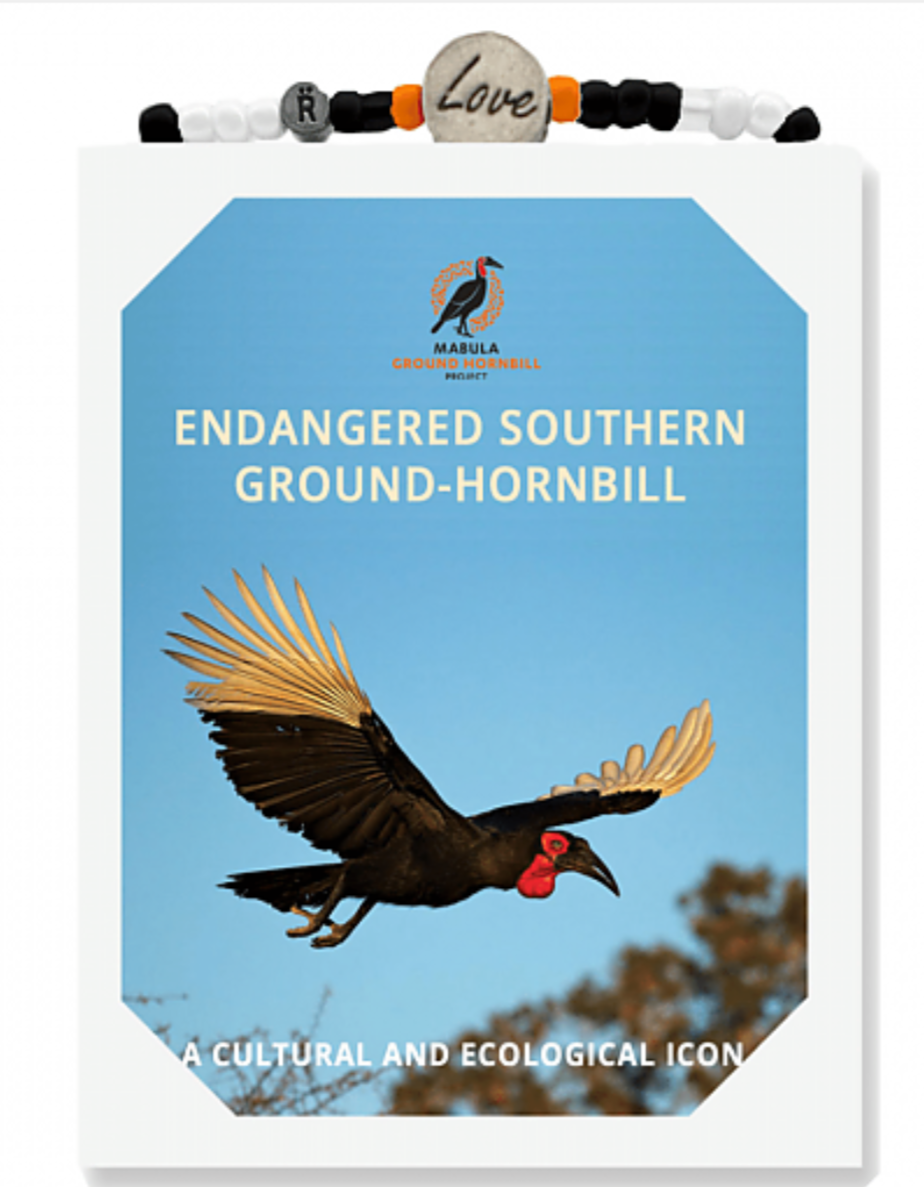 There is also a new Relate bracelet to add to your collection, these beauties embrace the striking ground-hornbill's colours. These sell for R30, of which 33% comes straight to ground-hornbill conservation, 33% to the crafters that make them, and 33% towards materials and packaging. https://www.relate.org.za/causes/mabula-ground-hornbill-project
Covid-19 has also opened up new avenues for sharing our work: the podcast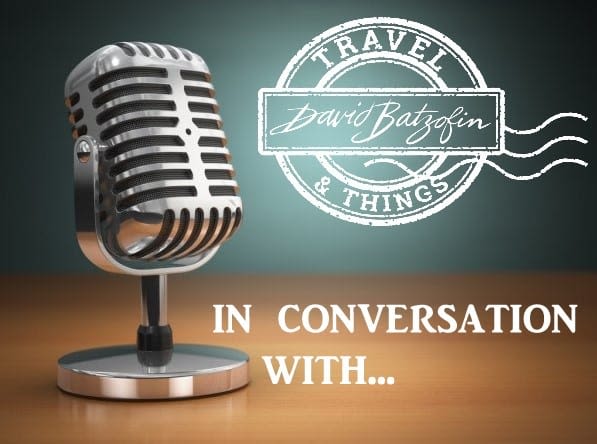 We spoke to David Batzofin, as part of his 'In conversations with ......' https://travelandthings.co.za/2020/08/mabula-southern-ground-hornbill-project/
We were then amazed and thrilled to be approached by Chris Cardoso and Rassie van der Dussen when we put out a call for funding to buy new tyres. They have a conservation fund called African FRDM x Environment and they bought us the much-needed new tyres.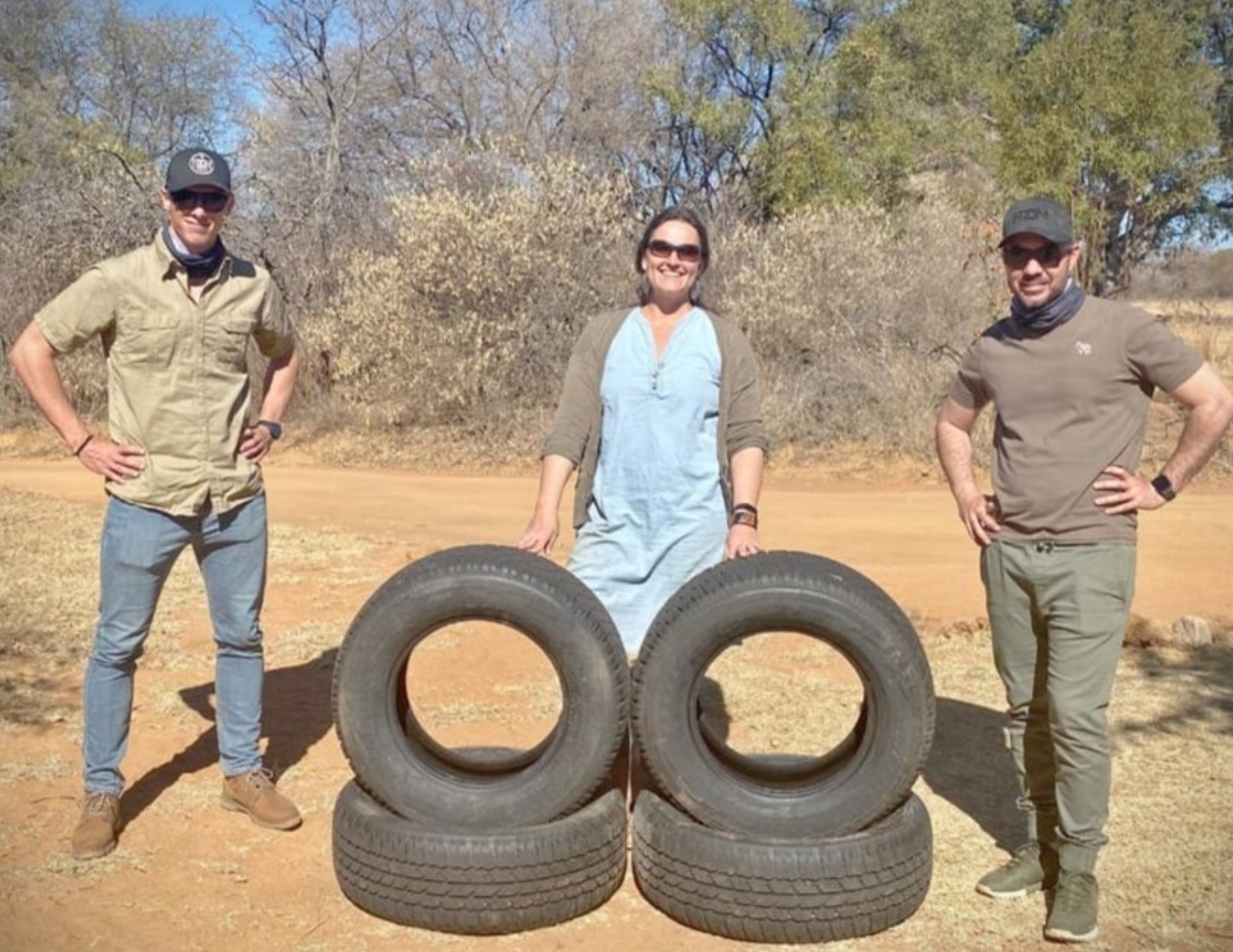 This was picked up by cricket-mad podcaster Adam Cruikshank from The Birding Life podcast and we have all since joined forces to raise funds for ground-hornbill conservation and spread awareness, to ensure that this pandemic does not slow us down in any way. We were given the opportunity again to chat about the birds and the project: https://www.thebirdinglife.com/podcast/episode/c22c7e57/episode-19-mabula-ground-hornbill-project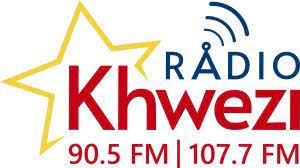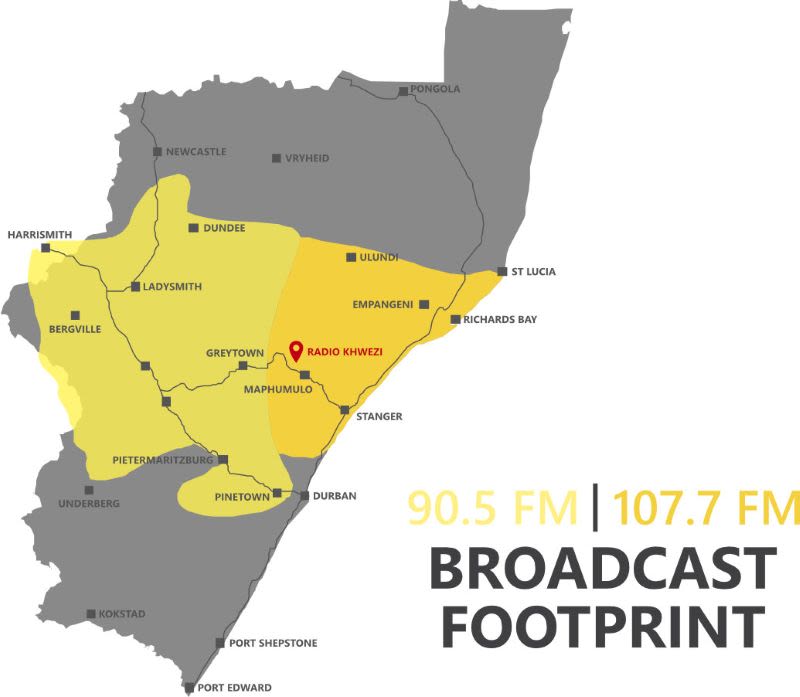 meet the (virtual) intern
Kees Groot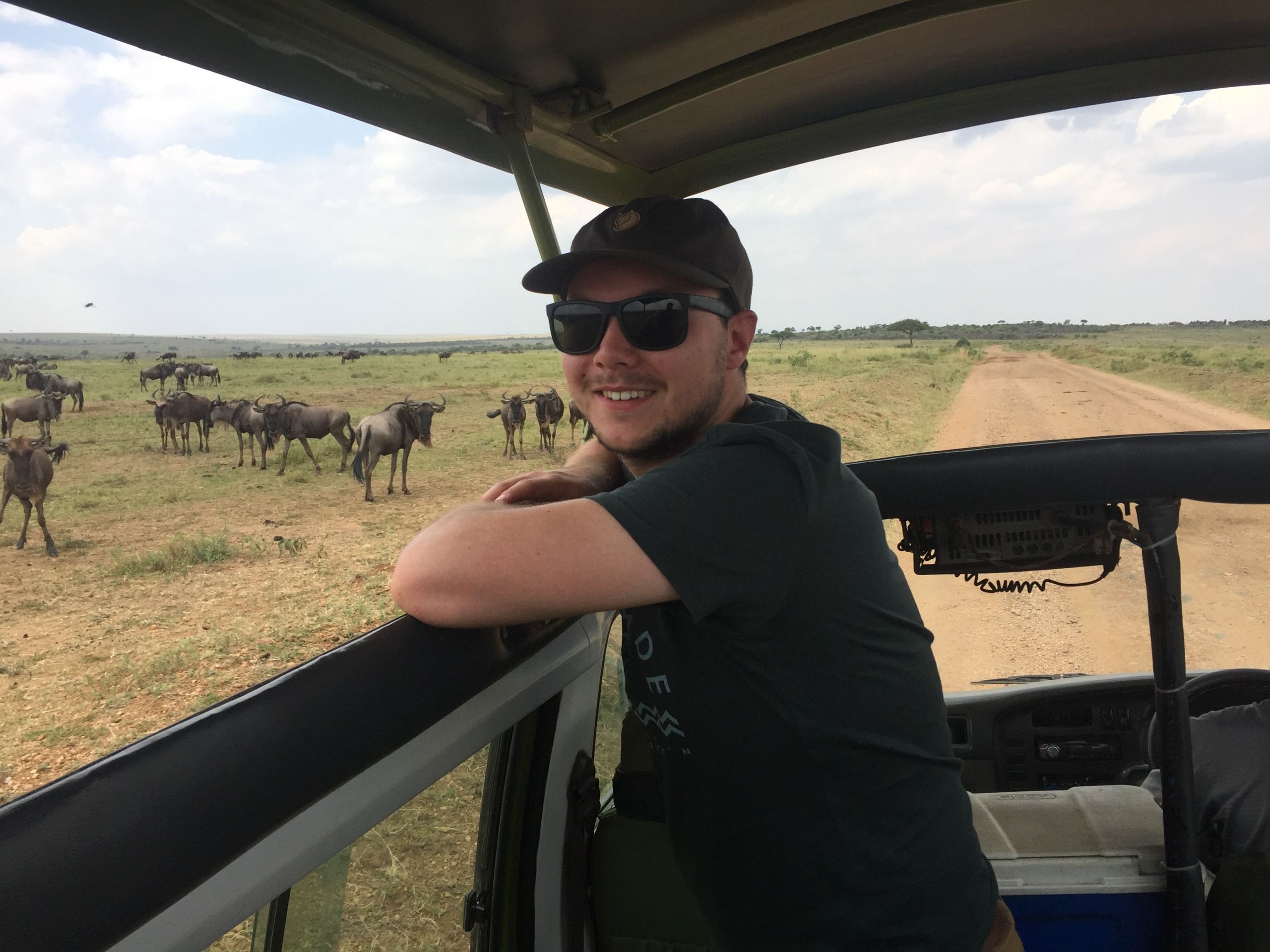 My internship with the MGHP
From dreaming of 2,5 months in the African bush, to 2,5 months working from home in the Netherlands, stuck behind my laptop.
The 6th of April 2020 should have been the day, I was supposed to fly to South Africa from the Netherlands for a two and a half months internship with the Mabula Ground Hornbill Project. During this internship, the goal was to work with the MGHP's education team. To develop environmental educational material about the Southern ground hornbill for my bachelor's degree in Education and Knowledge management.
Unfortunately, due to Covid-19 it was not possible to travel to South Africa. I had to inform Lucy that I was not able to come to South Africa to intern at the Mabula Ground Hornbill project. Fortunately, both Lucy and I decided we would try to go through with the internship online. Which provided a whole set of questions. What kind of educational materials exist already? What does a typical education program look like? What kind of facilities are available during a program? All difficult things to imagine when you are sitting behind your desk in a different country. Luckily Nthabiseng, Patience and Lucy helped me a lot with answering these questions. After I had more information about the existing programs, we started brainstorming about the new educational materials that I was going to develop. We decided I would develop materials for the age groups of 15-16-17 in line with the Connect-Understand-Act model. This model is behavior-based education model specially developed for delivering conservation messages.
The education program has been designed so there are two or three different activities per phase (Connect-Understand-Act). Each activity is designed for different group sizes. By designing the education program this way, the educator has the ability to change the program to the needs and size of individual groups.
Interning for an organisation while not physically being on-site has its challenges, zoom meetings with bad Wi-Fi for example. But I think with the help of the enthusiasm of the Mabula team, we have developed great environmental educational material for these age groups and I'm eager to hear the outcome of a pilot project from the education team when it is safe to do so.
I hope when the time is right, I will be able to spend time with the Mabula team and see for myself all the amazing conservation work that they do for the Southern ground hornbills!